Welcome friends and North River Fronts Neighbors and Businesses! Things are moving and shaking in a good way in our little piece of Eau Claire. Phoenix Parkside is booming! Businesses are filling up and there are waiting lists for apartments and condos.
Responsible landlords are investing in some of our rental properties and home owners are encouraging each other to take pride in their properties.
A lot of these advances have been possible because we have an active and interested neighborhood association.
---
Neighborhood Meeting


Local Store - Gallery
205 N. Dewey St.

The North River Fronts Neighborhood hosted
our first meeting for 2017!
It's going to be a busy year!
Thanks to the Neighbors, Gardeners, Veterans, City Police and Parks Staff for coming out to discuss the possibility of having our neighborhood Green Space on Forest St. adopt a Veterans Tribute hiking and biking trail that would connect Phoenix Park and the High Bridge.
Called to order at 6:35 Introductions of all attending.

Agenda:
- Forest St. Bike Trail - Todd Chwala City Parks Supervisor basically said that the planned trail may be coming together earlier than anticipated after 13 area Veterans groups expressed interest in completing the Greenspace Bike Trail.

- Veterans Memorial - Mark Beckfield talked to the group about the interest that veterans have brought forward to underwrite the bike trail with tribute "stations" representing each of the wars Americans have been part of. He stated that each of the tributes may have a gardening component associated with each marker and a veterans group that would take care of maintaining the gardening component.
Mark said they are pulling the costs together so that the City and the Veterans would know what they have to raise to make it possible. He also stressed that the trail should be an overall win for all those involved. Gardeners and neighbors asked what would happen to the access to garden plots if a bike trail stops vehicle traffic on the gravel pad that exists now. Mark, Todd, and Jeff said that we are in the early stages of planning and want a solution that works for everyone.
Along with the trail would come Phoenix Park like lamp posts and electricity. The trail would end with flag polls and a tribute "labrynth" next to a completed City/Memorial parking lot that would also have a rest room. Old Huyssen St. would most likey be paved and handicap and regular parking would be added to access the flag poles.

- Forest St. Gardens - Tami Schraufnagel started the discussion about access to the garden plots and shared gardens. City staff said that we are early in discussions but that if the bike trail happens access by vehicle would not be possible. Andrew Werthman pointed out that not having vehicle access to the gardens would be healthier for the produce. He would like to work with the city to have limited vehicle access for large drop off/pick up needs. Tami pointed out that Owen Park has vehicle access to the bike trails. Maybe we could develop a similar memo of understanding. Joe Mauer thanked folks for bringing this forward early in the process. He said he would like to be part of the planning as we move forward and noted that he has helped us get to where we are with the Pavilion and storage shed.

- Neighborhood Policing - Tim Golden introduced himself and had other north district officers introduce themselves as well. He talked about new scheduling of shifts for officers with 4 days on and 4 days off with 10.5 hour days. He noted the trouble we are having with homeless and shared how officers are working with the population to hopefully have better outcomes. Phoenix Park neighbor Diane Luder asked if it is wise to have a memorial trail in an area that does have conflict. Mark Beckfield said that he hopes that the Memorials will bring out the better side of people.

- Neighborhood Plan Update - Tami mentioned that Ned Noel is working on the plan and we will be scheduling meetings soon to discuss updates from 2004.

- Other - Tami encouraged citizens to take advantage of the free sand provided at city shops on Forest St. She also confirmed with Todd the day of the Eau Claire Cleanup which is April 22nd from 9:00 until noon. Do we have projects that we would like to take care of during this event?

Adjourned - 7:56
---
Neighbors
A Volume One Expose about neighborhoods
Phoenix Park Successes!
an article about the apartments and lifestyles of folks in the new apartments.
Bike Fix It Station
In Phoenix Park by stand alone water fountain

Welcome JAMF!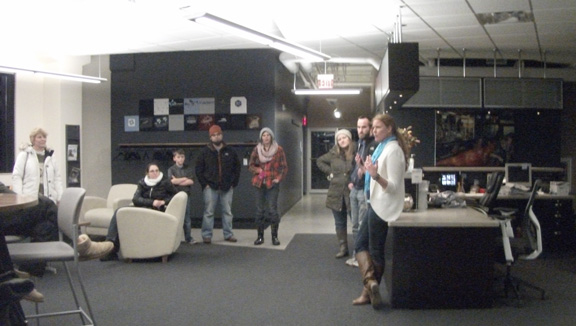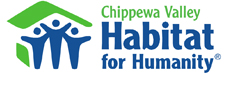 Brush with Kindness
There were lots of people in the neighborhood
on Friday, May 2nd, 2015!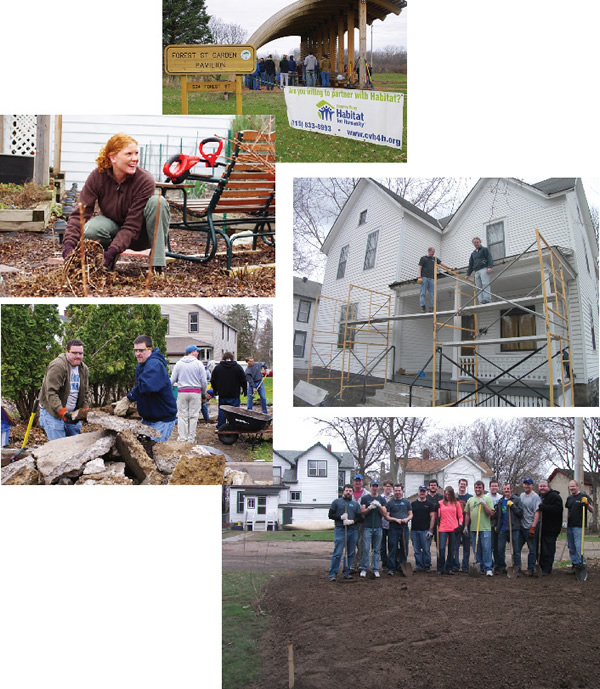 Thanks to all that participated!
Habitat is touching the lives of more and more people
---

Pavilion Dedication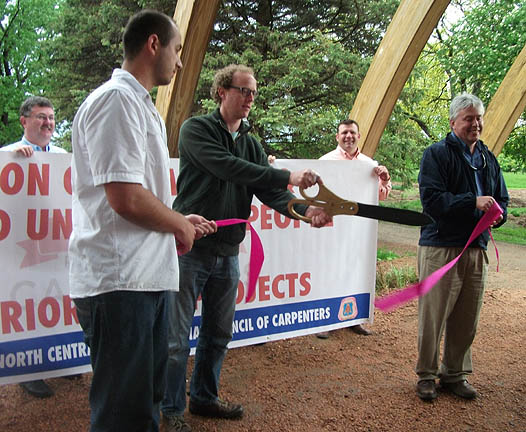 At 4:45 the skies opened up and it poured until about 5:30.
There were sirens blaring and cars lining up on the street.

We caught a break and were able to do the ribbon cutting! Thanks everyone!
Thank the team that raised funds to build the pavilion and the union members and M&J staff that built it for us!
---
Thanks Andrew for visioning the 2012 Gardens!
The area is beautiful and so full of energy! Thanks to the rental plot gardeners - the partnership for pollinators - UW-Extension and Americorp Vista and to the oodles of friends and neighbors who have helped this area grow and provide food for many in the Chippewa Valley!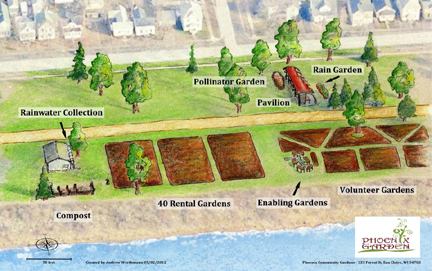 Volume One - Phoenix Gardens to Get Swanky Pavilion